The Ghana Broadcasting Corporation (GBC) has written to the National Media Commission (NMC) to intervene as the government attempts to reduce its channels from six to three.
A communiqué from the Communications Ministry to GBC, directed the state broadcaster to reduce the number of channels it occupies on the National Digital Terrestrial Television platform from six to three.
The letter which bears the name and signature of the sector Minister, Mrs Ursula Owusu-Ekuful says the move is aimed at cutting cost and ensuring there is space on the platform.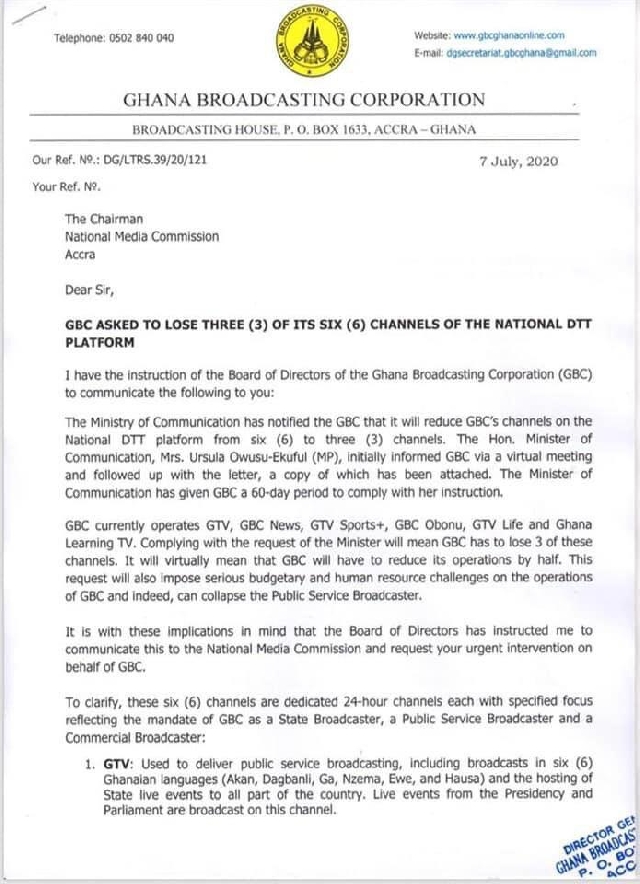 But GBC in a reply and a petition to the NMC noted that the directive means that GBC will have to reduce its operations by half.
The letter to the NMC further noted that a reduction in channels could lead to "serious budgetary and human resource challenges… and indeed can collapse the Public Service Broadcaster."
The state broadcaster further argued that, given the diverse nature of its various stations, it is "unable to respond to the request of the Hon. Minister of Communication."
The six stations under GBC are GTV, GBC News, GTV Sports+, Obonu TV, GTV Life and Ghana Learning TV.
Meanwhile, the Minority in Parliament has said the Communications Ministry's directive is unlawful.
About The Author